New Patients

Call us on 01295 239 954 to book your New Patient Consultation Today
During the new patient assessment we will:
Ask you to complete our Confidential Medical History Form.  Please remember to bring in a list of any medication that you are taking.
We will then invite you into one of our modern treatment rooms for a relaxed chat with your dentist.  We will ask about any previous treatment and if there are any particular concerns that you have with your teeth.
Your dentist will then complete a thorough examination during which they will look at the teeth, gums, and check the jaw joints. A simple oral cancer screen will also be completed. Low dose digital x-rays may then be taken together with photographs.
Your dentist will then clearly explain any findings and give recommendations for treatment, if any is needed. Some people require little in the way of treatment, in which case we will recommend an appropriate preventive programme for you straight away.
All options will be discussed and we will provide you with a clear detailed treatment plan and a written estimate of treatment costs. You will also be given the opportunity to ask any questions you may have.
Meet Edvina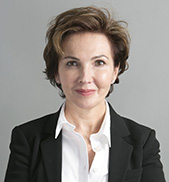 Dr Edvina Muksinovic Principal Dentist
Edvina is a very experienced Dental Surgeon with a special interest in prosthetic dentistry, cosmetics, sedation and facial aesthetics.
She holds the Advanced Certificate in Conscious Sedation – University College of London and the Implant Certificate – University of Central Lancashire.
She loves the variety of dental work in general practice and is well recognised for her ability to put nervous and dental phobic patients at ease.
Outside of work Edvina enjoys running, skiing, de-cluttering and holidays!
Our 5 star reviews
Nervous Patients
Our practice is specially trained to provide dental treatment for anxious patients – we have helped 1000s of nervous patients smile again.
We are specialist in helping people with dental phobia. If you would like some advice, to meet us in person or have a look around before making your decision, please give us a call on 01295 709500.
Accessibility – our ground floor surgery has free parking 50 yards away and good wheel-chair access to the reception and treatment rooms.