Veneers
Porcelain Dental Veneers are custom-made, thin ceramic shells that are placed over the natural teeth to create a new, whiter smile.  Veneers change a patient's smile by addressing the following issues:
Grey or Yellow Teeth
Crooked or Misaligned Teeth
Gaps, Chips or Cracks in Teeth
Typically in two dental visits, the patient's discoloured and damaged teeth are transformed. The result is a new rewarding smile.  Veneers have a very natural look because they are based on the patient's natural teeth.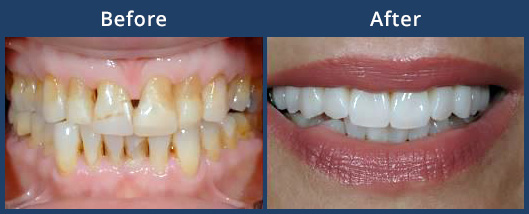 At the initial dental veneer appointment the patient will need to choose the shade of their veneers.  This shade depends on the patient's preference but is also based on other factors like skin tone, hair and eye colour. 
Once the shade is chosen, the teeth preparation begins.  The teeth are gently reshaped and a small amount of tooth structure is removed to compensate for the added thickness of the veneer.  Measurements and impressions of the teeth are then taken and sent to a dental laboratory.
At the lab, each individual veneer is custom made to insure a natural look once they are placed.  When the veneers are completed, they are placed over the front and top of the teeth with a dental bonding material.  The patient then has a new, healthy, whiter and natural-looking smile.

Back